~~if Jonathan (who sounds REALLY way too much like Alan Alda. seriously. next time he speaks. close your eyes. you'll die) had picked Nate first, he still would have been able to take Yul, since the other team couldn't have, and he would have ended up with  a stronger tribe. just sayin'
~~do you think they split up the tribes this early because Mark Burnett's little social experiment failed miserably….or do you think this was their dumbass plan from the start ("ooh…let's revolutionize the game. for two. whole. weeks."
~~also, is Jeff mispronouncing her name, or did her thoughtless parents actually name her "poverty"? "ooh…look at all that meat. i bet you could eat the whole thing yourself…" wow. that was all kinds of high school. seriously, we had to rewind this. several times.)
~~cao boi was just annoying. now he's eating baby birds. that's just not right.
~~Ozzy bugs with his whole…oooh…cecilia…you're breakin' my heart….you didn't make an effort to get to know me…boo hoo…he's such a woman…whoever compared the dude to bobby jon must have been drinking heavily. oh, how i miss me some bobby jon.
~~well, Candace clears things up for us. since we were all worried.
~~JP. gay or not gay? discuss.

i have a confession to make. (many of you will NOT find this new information). i love pharmacies. i love products in nice packaging. i love new! and improved! shampoos and conditioners and toothbrushes and toothpastes and razors and deoderants and don't even get me started on the baby aisles (sippy cups and bottles and diapers! oh my!)
i am also a sucker for a bargain. 2-for-1! double shoppers points! 2 for $5. 50% off. loves it. so, when new and exciting products go on sale, i'm on them like white on rice.
so…let's just say that a new product came out. in several dozen new colors and scents and pretty bottles. and. they. were. on. sale. anyone want to take a stab at how many i bought? well…i'm fairly certain that i bought one in every color. so now my shower and my cabinets look a little like Jennster's. dangerously straight! (i wear my hair straight!) body envy! (everyone's hair needs body!) color me happy! (i color my hair!). naturally, i needed one of each.
this morning i opened up the blue bottle to try something new. it wasn't until after i shampoo'ed up that i took a look at the package to see what kind of glorious hair i'd be having today. was it voluminous? was it super healthy? super straight? alas. i was mistaken. it was hello hydration.
and then the panic set in.
seriously. a girl wants straight hair. no flyaways. healthy hair. lots of volume. great curls. we do not want GREASE. who wants to ADD more oil to their hair? (clearly someone with super dry hair. read=not me) I have great hair (don't look now, but i just mentioned something i like about myself. it doesn't happen often. let's cherish this moment, shall we?), and i don't need to be adding moisture to it.
but, alas, this ends in good news. my hair, after a super panicked blow dry, looks the same. it looks the same as it always does. it looks how it does when i use the straight hair shampoo. or the volume shampoo. or the colored-hair shampoo. it looks the same. (herbal essences sure is a clever company, isn't it?)
but this morning it smells all nice and coconut-y. mmm….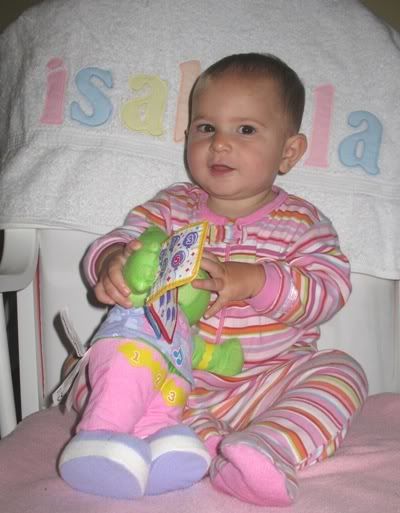 Â
this is just because she's cute. and bald. and she doesn't need to worry about things like shampoo.