well, the big Y-K is over and all i have to show for it is a post-fast coffee hangover.
(ps. don't you think that FAST is possibly the most ludicrous name for NOT-EATING. there's nothing god-damned FAST about it. they really need to call it a SLOOOOOOOW)
i do this to myself every year. the minute the fast is over i down a giant-ass full-caffeinated coffee to appease the headache gods…and then spend the entire night appeasing the insomnia gods. fun. it did, however, enable me to watch 2 episodes of The Tudors, The Office, Survivor, Grey's Anatomy, 3 episodes of Six Feet Under and two episodes of House. yes, i am almost fully caught up on my tv watching. yay, god. heh.
most of Yom Kippur is spent in shul (temple. synagogue. it's all the same. lots of prayers. lots of bad breath. lots of people all decked out in WHITE. now this i cannot understand. for the life of me. the women who wear white dresses and white tights and white shoes and white hats. purity? next year, y'all, i'm totally showing up in my wedding gown. i wonder if it still fits….) working your way through this entire book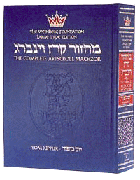 which, i can assure you, is a way easier way to get through a fast than to be chasing after three children all day. i promise. especially when you are sitting next to the best Yom Kippur partner-in-crime, Ilana. seriously, i highly recommend sitting beside her.
(and not just because she, like me, ALSO brushes her teeth on Yom Kippur. and she's a dentist.)
(and not just because she, like me, likes to check out the non-leather footwear of choice AND to check out what people look like without make-up. that's right. NO MAKEUP)
(and not just because she and i are on the lookout for the people who *might* be a wee bit too scantily clad for the holiest day of the year. please note: it wasn't me. i was all decked out in a turtleneck and a skirt that covers my knees! huzzah! and tights! and FLATS! it's the one day a year i choose comfort over hotness. no cleavage to be seen! no thigh showing! my gosh, i even wore underwear yesterday. Yom Kippur is BORING)
i spend a lot of my time in shul reading the English side and the commentary. the part that breaks down exactly what i'm saying. The good thing about the whole confessing-of-the-sins thing is that you pretty much ask forgiveness for doing anything and everything. from watching porn to brushing your teeth on yom kippur to not being 100% into it while asking for forgiveness to committing murder. so, basically, god's got your back. you confess to it – whether you did it or not. he forgives it.
nice.
i hope he forgives me for thinking…"oh! hark! i could use me some wine-libations right about now!" while reading this
and i hope i'm forgiven for laughing every time i read this
my sister and i used to have to be separated when we were kids. because we seriously used to think that "acted wontonly" had something to do with eating Chinese food. and hell if i was going to HELL for partaking in the lovely delicacy that is the fried wonton. of any other delicious Chinese food-y treat.
Ilana and I had to almost be separated yesterday. i swear.
(got any Yom Kippur questions? i know you've got 'em. now's your chance!)