there are many things i love. and i talk about them all the time. Starbucks lattes. My lululemons. the Cheesecake Factory. Chapstick medicated lip balm. my camera. diet pepsi. turtlenecks. my wii. ipods. but i thought out give you a little taste of some of the other, less well-known things that i love.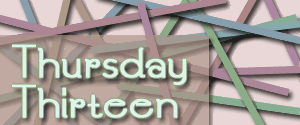 1. Good Times marathons.
2. anything toile.
3. crazy socks. i love to wear socks with crazy colors and patterns. i love to wear them under pants. it's like my little secret that no one else knows about.
these are my favorites. yes, virginia, they ARE knee-highs.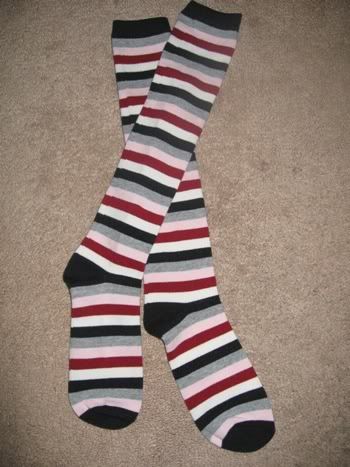 4. Rubik's Cube
5. House. the show and the doctor.
guesses on who he's going to keep?? i NEVER thought he'd fire 'Big Love' – but that's one of the things i love about House – – – i always expect the unexpected.
6. Black Friday. but the day must start with a piece of leftover pumpkin pie. (alas…i will be in Canada for thanksgiving this year…with no pumpkin pie. and no black friday. boo)
7. Small, independent bookstores.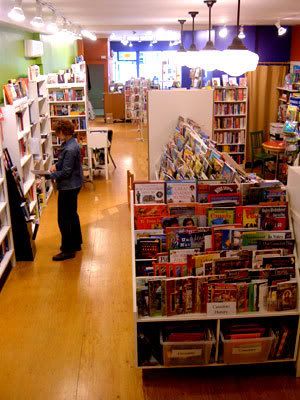 (Another Story Bookshop, Toronto, Canada)
8. The first day of new contacts.
9. tan lines.
(i hope my sister doesn't mind me posting a picture of her on here…but i don't have a single picture of me with a tan line….)
10. Sunday Football
11. The smell of laundry. and Tide Cold Water Wash (it's a two-fer)
12. Old School Super Mario Bros.
 
13. Good Causes. my good friend Matt's father was diagnosed with high-grade malignant brain cancer. His sisters, Sydney and Samantha, aged 9 and 7, are making and selling beaded bracelets — with the help of family and friends — to raise money for the Pencer brain tumour centre at Princess Margaret Hospital where their dad, Fred, 57, is undergoing treatment.
They are selling the bracelets for $10 and all the proceeds go to the Pencer Brain Trust. If you are interested in purchasing a bracelet, let me know or visit the website:
www.bluebrainbracelet.com
oh my god…there are so many more. i may have to do a part 2 next week!!!!!