last night i had to pull out the big guns and punish the kids. i don't do the punishing thing very well. at all. but since i put all three kids to bed on my own more often than not, and their bedtime behavior has been out-of-control as of late, i decided some disciplining was necessary for my survival. and theirs.
the biggest problem is that once Isabella's in bed, i start the Emily and Josh bedtime routine. Neither one wants to go to bed, of course, so, just as their sister is falling asleep, the yelling begins and she wakes up. Finally, once they are in bed, after having to go in to Isabella at least thrice, they won't stay in bed.
i need a kiss and a hug
i need another drink
i forgot my doll downstairs. and i can't possibly go into the basement alone to get it
i think i might throw up
i made this for you
when's daddy coming home
so, last night, when they began fighting over this red stuffed elephant, that they both are convinced belongs to them, I grabbed said elephant, told them both i loved them but their doors were going to remain closed until the morning.
i'm sure you can imagine how well that went over.
i said that they could come out if they a) had to pee or b) had to barf.
guess who barfed? She's such a sly devil.
but, they cried for about an hour. and then eventually they both fell asleep.
while they were crying, i couldn't really handle it. so, in situations like these, i do the only things i can do. i turn to the guilty pleasure. the things i hate to love. I ate Oreos and watched The Facts of Life.
(oh, and i also made these. to keep my hands from pulling my hair out. or from opening the doors…i'm. so. weak.)
talk about guilty pleasures….
so, i figured for my thursday thirteen this week, we'd discuss my top guilty pleasures. although, truth be told, they aren't REALLY guilty….i don't feel guilty about them, not at all.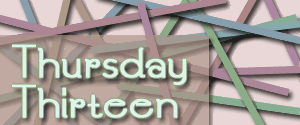 1. cheesy 80's sitcoms. facts of life. different strokes. growing pains. who's the boss. gimme a break. saved by the bell.
2. oreos. and other cookies. pretty much all. ooh, but my all-time favorites have got to be these.
3. Unwrapped if nothing else than to watch Marc Summers talk and imitate his annunciation.
4. diet pepsi i drink way more of this than i should. bite me.
5. board games i kick ass at board games. well, i take it back. i kick ass at the board games that require skill. i suck balls at the luck games. even if my luck might be changing. Scattergories. Scene It. Trivial Pursuit. Balderdash. i love them.
6. Corner Gas i love this show. i'm really not sure why.
7. Young and the Restless i used to make fun of all my friends in high school for watching Days of Our Lives. Marlena possessed by the devil? come on…ridiculous. what they didn't know was that i was a closet Y&R fan, and had been watching for YEARS.
8. sudoku i can't get enough of these suckers.
9. Michael Jackson's Thriller video. and dance. yes, i CAN do it.
 
10. google i love to google things. anything and everything. i love having all those answers at my fingertips. and yes, i google people's names. (okay, maybe this one i feel a little guilty about)
11. Billy Joel's We Didn't Start the Fire and yes, i do know all the words. and i sing them in my head when i can't fall asleep.
12. celebrity gossip. the superficial. perez hilton. US magazine. i love it all.
13. Center Stage – life doesn't hold tryouts. it's cheesy. it's ballet. it's fantastic.