the Simpsons movie is in theaters…and apparently, i'm the only person on the planet who hasn't seen it. most people say it's great, a few are saying it's only "meh"
i thought for my thursday thirteen this week, i'd list you my favorite Simpsons episodes. just a little disclaimer here…this was hard. REALLY HARD (that's what she said…) unpossible, even. because seriously, y'all, the Simpsons has been on for-fucking-ever. and there were so many to choose from. so, here it is, in all its glory.
please share your favorites…and let me know which ones i've missed.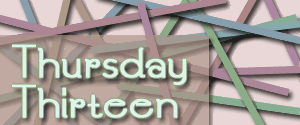 please note…these are NOT in any particular order…
1. Cape Feare
After Sideshow Bob is paroled, the Simpsons go into the witness-protection program, becoming the Thompsons and moving to a houseboat on Terror Lake, where Sideshow Bob tracks them down.
2. Lisa the Vegetarian
best line: "you don't win friends with salad!"
3. Marge vs. The Monorail
A straw-hatted huckster blows into town and, using a catchy song-and-dance routine, manages to sell Springfield an unnecessary monorail of dubious safety.
4. Two Bad Neighbors
Homer goes to war with his new neighbor, former president George HW Bush. favorite line: "Since I've achieved all my goals as president in one term, there was no need for a second"
5. You Only Move Twice
The Simpsons move to a new town so Homer can work for industrialist/philanthropist/super-villain Hank Scorpio
6. Homer the Great
After stalking Lenny and Carl, Homer discovers the secret society of the Stonecutters. Homer joins, then is kicked out of and finally becomes the chosen one of the heavy-drinking club.
7. Last Exit to Springfield
When Lisa needs braces, Homer becomes the head of the power plant's union to keep the dental plan. Burns tries to freeze out the union, resulting in a strike.
8. Mr. Plow
"Mr. Plow" Homer and a jealous "Plow King" Barney operated rival snow plow businesses until a near tragedy convinced them they should work as a team.
9. Boy-Scoutz 'N the Hood
Bart and Milhouse find $20 which they use to go on a Squishee bender in downtown Springfield. With no memories of what accured, Bart is shocked to find out he joined the Junior Campers. Now a full fledged member, he must attend the father son rafting trip with Homer.
10. Deep Space Homer
NASA decides to send average Joes into space. Homer and Barney compete to be the lucky "average-naut," and Homer wins by "De-fault. The two sweetest words in the English language!"
11. Rosebud
Mr. Burns's lamentations for his childhood bear, Bobo, lead to a show-long parody of Citizen Kane.
12. Homer's Triple Bypass
best line: Mr. Burns: Look at that pig, stuffing his face with donuts on my time. That's right, keep eating…little do you know you're drawing ever closer to the poison donut! There is a poison one, isn't there Smithers?
Smithers: Err…no sir, I discussed this with our lawyers. They consider it murder.
Burns: Damn their oily hides!
13. Flaming Moe's
Moe stole Homer's drink recipe and turned the bar into a trendy hotspot, with Aerosmith performing and customers who channeled Cheers' Cliff and Norm.